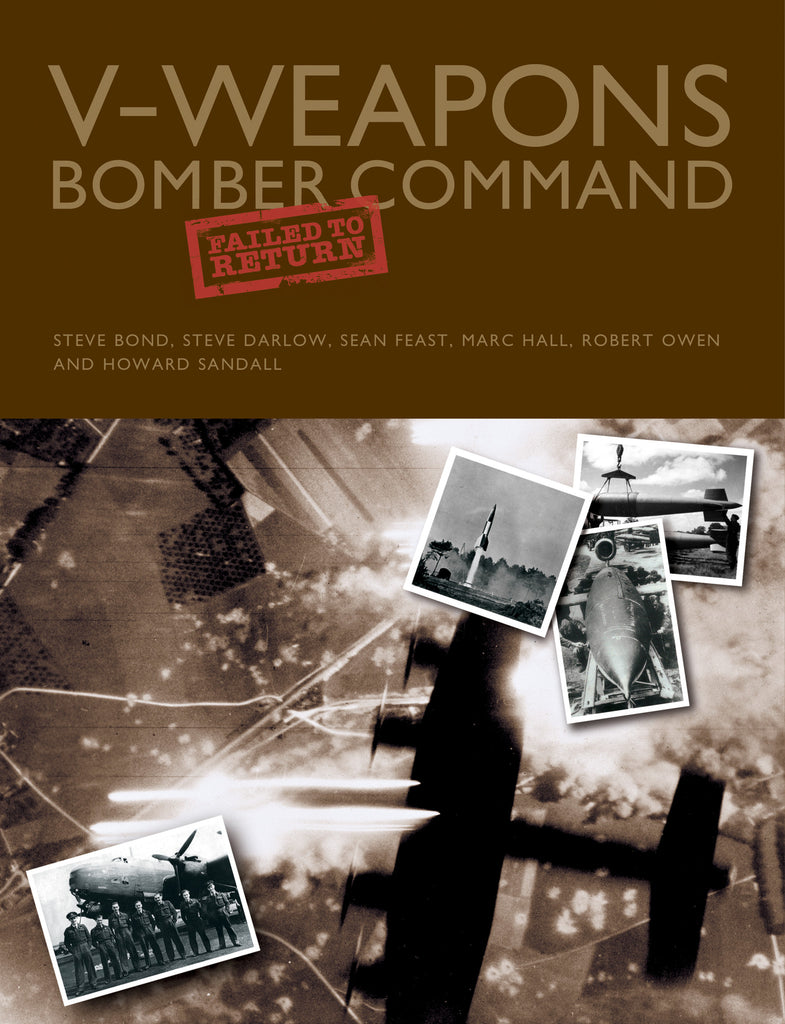 Fighting High Books
V-Weapons Bomber Command Failed to Return
by Steve Bond, Steve Darlow, Sean Feast, Marc Hall, Robert Owen, Howard Sandall
Foreword by Bomber Command pilot Flight Lieutenant George Dunn DFC
Hardback - 128p - 275 x 210mm. Approx 120 colour and b&w photographs.
World Rights - Fighting High Ltd. ISBN - 978-0-9926207-9-0.
Description
In the Summer of 1944 Nazi Germany launched its terrifying Vergeltungswaffen (reprisal weapon) attack against the population of south-east England. Under direct attack the Allies responded. The Supreme Allied Commander General Dwight D. Eisenhower was quite clear that the V-weapon counter measures were of paramount importance over everything except the urgent requirements of the D-Day and Normandy land battle, 'this priority to obtain until we can be certain that we have definitely gotten the upper hand of this particular business.' He would use all the resources at his disposal including the Royal Air Force's heavy bomber force. 
The task for RAF Bomber Command was simple. If the bomber crews could reduce the number of V1s launched, the fighter aircraft and gun defences had a better chance to intercept and shoot down the flying bombs. But these pilotless aircraft were not the only menace, the V2 rocket offensive would soon be launched, and the Allies closely monitored the construction of what they came to learn was the V3 'supergun' site.   When the war came to a close Bomber Command could justifiably claim success against the V-weapons.
There was a cost though – a cost in aircrew lives. V-Weapons Bomber Command Failed to Return tells the story of some of those airmen who were prepared to risk their lives countering the German V-weapon offensive in direct defence of the civilian population. They had responded to what British Prime Minister Winston Churchill described as the attempt to 'blast the viper in his nest'. Their story deserves to be told. 'We Will Remember Them'.    
Authors
Dr Steve Bond served in the RAF for 22 years as an aircraft Propulsion Technician, before moving into the civilian aerospace industry, and subsequently joining City University as a Senior Lecturer. Now a freelance lecturer Steve's main interests centre on military aviation from the Second World War onwards. He is the author of numerous works including histories of RAF Brize Norton, RAF St Athan and the Gloster Meteor, along with the books Heroes All, Wimpy, Special Ops Liberators (co-author), and contributions to previous Failed to Return books.
Steve Darlow is a Bomber Command historian, established military aviation author (with sixteen books to his name), and television documentary consultant and contributor. In 2009 Steve founded Fighting High Publishing, which seeks to publish books focusing on human endeavour in military situations.
Sean Feast works in PR and advertising and is an acclaimed Bomber Command historian and author. Sean has authored and co-authored numerous books, including both volumes of Fighting High's Bomber Command Failed to Return, Dam Busters Failed to Return,  D-Day Bomber Command Failed to Return, and A Thunder Bird in Bomber Command.
Marc Hall developed an interest in aviation at an early age, and gained a commercial pilots licence. Marc's research in to RAF Bomber Command is ongoing and his first book Bomber Command Operation Hurricane met with critical acclaim.
Dr Robert Owen is an aviation historian and the Official Historian of the No. 617 Squadron Association. A Trustee of both this Association and the Barnes Wallis Memorial Foundation, he has contributed to numerous publications and television documentaries, including authorship of the book Henry Maudslay Dam Buster. Dr Owen was also lead author on Dam Busters Failed to Return.
Howard Sandall is the No. 622 Squadron historian, the author of the squadron's history We Wage War By Night and contributor to D-Day Bomber Command Failed to Return. His research into his uncle's time with Bomber Command has led to him expanding his interest to other squadrons with the aim of perpetuating memories for future generations.
---
Share this Product
---
More from this collection