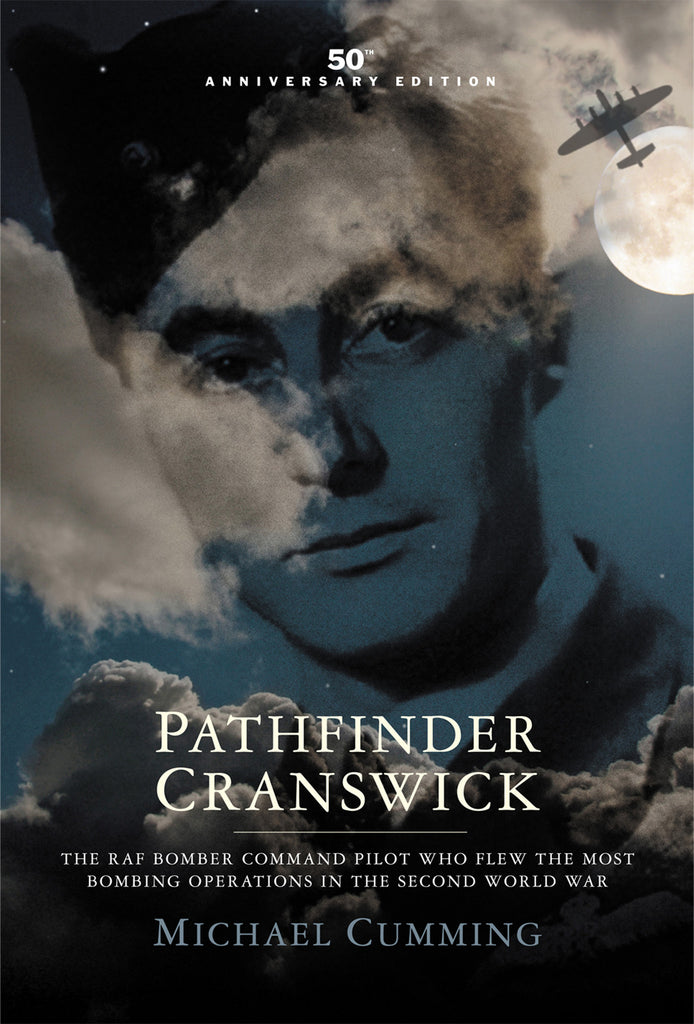 Fighting High Books
Pathfinder Cranswick
by Michael Cumming
Hardback - 256pp - 234 x 156mm.
World Rights - Fighting High Ltd.
ISBN - 978-0-9562696-7-6
Description
In 1962 Michael Cumming's account of the extraordinary story of one of the RAF's most notable Second World War bomber pilots, Alec Cranswick DSO, DFC, came to the attention of the public with the release of Pathfinder Cranswick. Since then the biography of this remarkable man has, quite rightly, achieved classic status.
Alec Cranswick volunteered for the Royal Air Force in 1939 and went on to earn the distinction of having flown, as a bomber pilot, the largest number of operations during the Second World War. Sorties against enemy targets began in June 1940, and he completed a tour flying Wellington bombers prior to volunteering for service in the Middle East. He returned to Europe in 1942 with a Distinguished Flying Cross to his name and after a brief spell with No. 419 (Moose) Squadron he volunteered to lead the way for Bomber Command as part of the fledgling Pathfinders, serving with No. 35 Squadron. Upon completion of his third tour he was then rested, but returned to operational duties, for a fourth tour, in April 1944. Tragically, piloting a Lancaster bomber on his 107th bombing operation, Squadron Leader Alec Cranswick failed to return on the night of 4/5 July 1944. Bomber Command had lost an airman described by Pathfinder Force Commander Air Vice-Marshal Donald Bennett, as `so simply courageous and so selfless in sacrifice.'
Michael Cumming's original work, based on family archives, official records, and interviews with those who knew Cranswick, has been extended and updated with new material and previously unpublished photographs. Fighting High presents the 50th anniversary edition of Pathfinder Cranswick, as an ongoing tribute to one of the Royal Air Force's most distinguished and accomplished pilots.
Reviews
Andy Wright of Aircrew Book Review commented on Pathfinder Cranswick, 'I will say categorically that Pathfinder Cranswick is the most stunning hardback I have had the pleasure to hold in my hands. High quality for a top piece of writing.'
'Comprehensive account of a pilot renowned throughout Bomber Command' (Britain at War Magazine)
'Fighting High has once more brought the story of one of the RAF's most distinguished and accomplished bomber pilots to the forefront . . . an ongoing tribute on the 50th anniversary of a classic aviation read.' (Aeroplane Monthly - Book of the Month, November 2012)
---
Share this Product
---
More from this collection