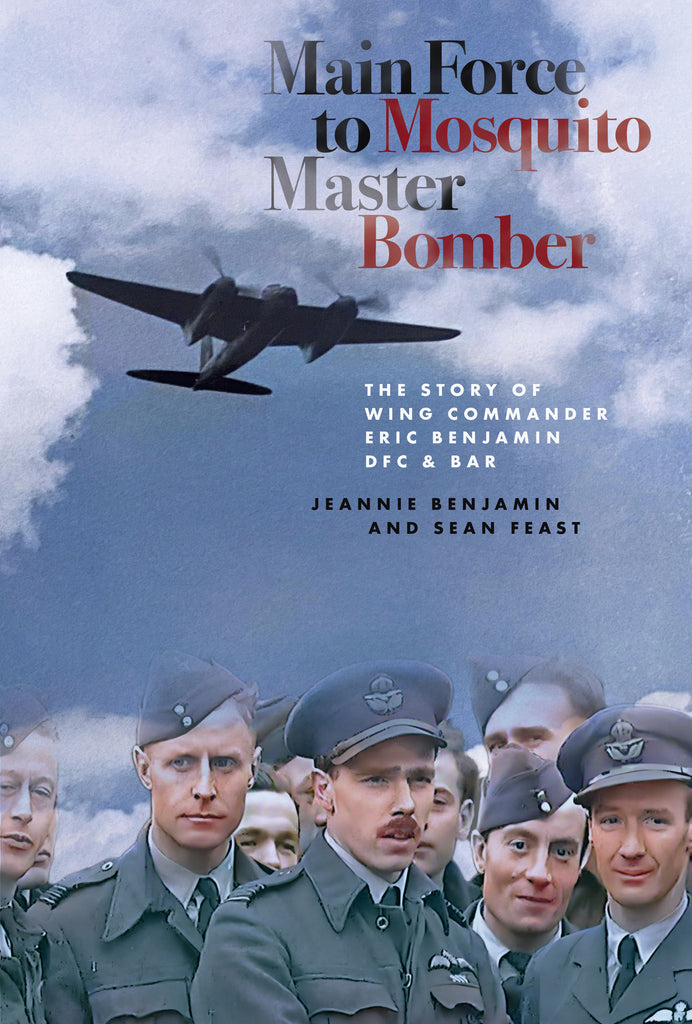 Fighting High Books
Main Force to Mosquito Master Bomber
The Story of Wing Commander Eric Benjamin DFC & Bar
by Jeannie Benjamin and Sean Feast

AVAILABLE FOR PRE-ORDER
DUE OUT MAY 2024
Hardback - 192pp - 234 x 156mm. Approx 45 black and white photographs.
World Rights - Fighting High Ltd. ISBN - 978-1-8380687-4-5.
Wing Commander Eric Benjamin was no stranger to danger or excitement. In an action-packed career as part of the RAF Volunteer Reserve (RAFVR), he was awarded the Distinguished Flying Cross twice for his bravery under fire. He flew Fairey Battles with No. 150 Squadron during the Battle of France, Main Force Avro Lancasters with No. 61 Squadron during the Battle of Berlin, and De Havilland Mosquitoes as an elite Pathfinder Master Bomber in the latter stages of the war. He survived being shot down on his first operation, when his air gunner was severely wounded, and was among the last RAF aircrew to be evacuated from France in the summer of 1940. He was pulled clear of the mangled wreckage of a Vickers Wellington that crashed in flames during a spell as an instructor, narrowly escaping with his life for a second time, and 'starred' as a Flight Commander interviewed for Pathé News after a successful raid on Berlin in 1943. Towards the end of 1944, he achieved his ambition of flying Mosquitoes, and was selected and trained as a Master Bomber, operating as part of No. 54 Base in No. 5 Group and helping to mop up what was left of German industry and military might. It was from one of these sorties that his aircraft failed to return.
Authored by Sean Feast and Eric's daughter Jeannie, the book includes numerous previously unpublished photographs of Eric, his colleagues, and the aircraft he flew. An inveterate letter writer, Eric once said of flying that there was 'no greater sport'. He died as he had lived, doing what he loved best.
---
Share this Product
---
More from this collection