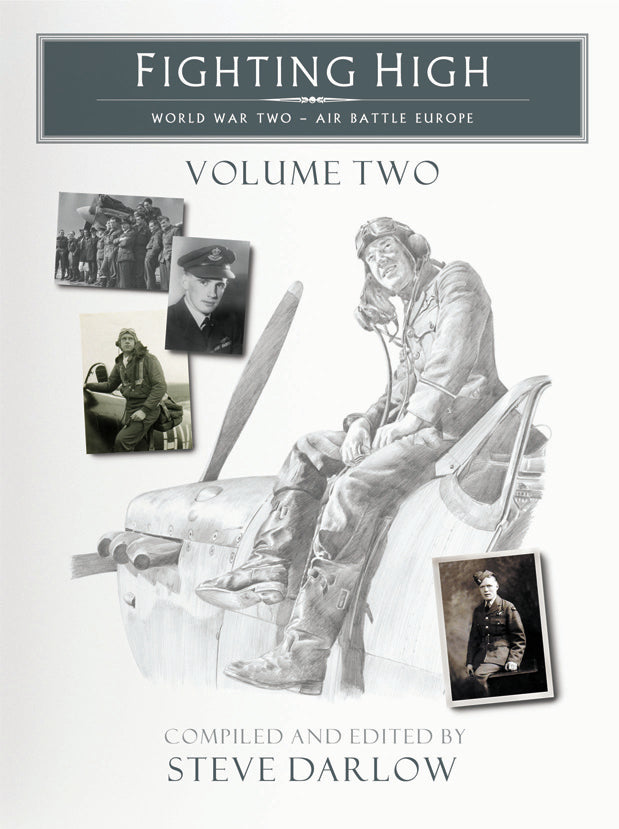 Fighting High Books
Fighting High Volume Two
by Steve Darlow (editor, compiler)
Fighting High: World War Two, Air Battle Europe, Vol.2
Hardback - 128pp - 277 x 210mm. Illustrated throughout with colour and black and white photographs.
World Rights - Fighting High Ltd. ISBN - 978-0956269614
Following the success of Volume 1, acclaimed military aviation author Steve Darlow brings together another collection of stories telling of the extreme bravery, heroism and sacrifice of the men who fought the European air battle during World War Two. Once more each story is told at a personal level, set within the context of the ferocious air war. Included are the recollections of veterans who fought for survival in the sky, graphic combat reports describing the air battle at the extreme, moving accounts of airmen who lost their lives, and memories stirred as the modern legacy of the air war is uncovered. Once more, an exciting, vivid, graphic and moving account of what the airmen went through when they were `Fighting High'. The second book in the series, as with Volume 1, brings into the public domain a considerable amount of original research and new material, presenting many hitherto untold stories about the air war. The book includes especially commissioned original artwork, illustrations and maps, and the award winning designer has gathered all the material together to present it in a fresh and contemporary style. Interest in World War Two remains high, particularly with respect to personal stories. The Fighting High - World War Two - Air Battle Europe series exclusively focuses on the individuals involved. The fresh and original approach to presenting these stories makes it essential reading for anyone interested in the World War Two aerial battle.
Reviews
The second volume in aviation historian Steve Darlow's ongoing series is another richly-illustrated and beautifully presented book. . . . Without doubt, this series is developing into a fine collection of books.
-- Martin Mace - Editor of Britain At War Magazine on Historytimes.com 22 September 2010
---
Share this Product
---
More from this collection