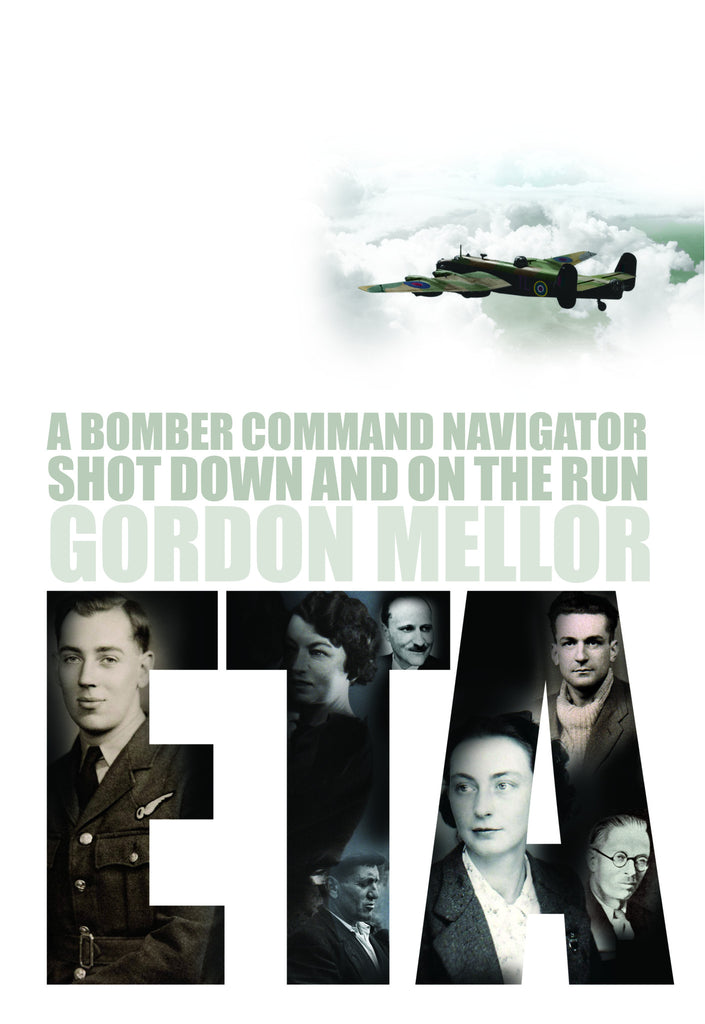 Fighting High Books
ETA
A Bomber Command Navigator Shot Down and on the Run
by Gordon Mellor
Hardback - 208pp - 234 x 156mm. Approx 30 black and white photographs.
World Rights - Fighting High Ltd. ISBN - 978-0-9934152-5-8.
Description
Gordon Mellor served as a navigator with RAF Bomber Command during the Second World War, and ETA is the first-hand account of a conflict that tests not only his initiative and resilience, but also the ability to survive amidst the extreme dangers of a Nazi occupied Europe.
Despite persistent attempts to join the RAF Volunteer Reserve in 1938, it is not until 1940 that Gordon is called up, and having crossed the treacherous waters of the North Atlantic to Canada Gordon describes the rigours of his aircrew training. On his return to the UK he is posted to RAF Lichfield, where disaster strikes as his Wellington bomber comes down just short of the runway, killing the rear gunner. Gordon's operational duties begin at RAF Elsham Wolds, Lincolnshire, and No. 103 Squadron, which includes taking part in the 'Thousand Bomber' raids. On a raid to Aachen, in October 1942, all seems to be fine until a German nightfighter tails them and opens fire. With both wings ablaze the order to bale out is given, and Gordon manages to leave the stricken Halifax with only seconds to spare. His descent is brief, landing unceremoniously in a tree. What follows is an epic tale of intense risk and good fortune. A decision to knock on a farmhouse door is pivotal and Gordon soon finds himself part of the famous Comète escape line, set up by the Resistance to help Allied servicemen evade capture.  An amazing 'cloak and dagger' journey follows with danger ever present, and betrayal a constant threat.
ETA is a compelling story of bravery and strength of character, as Gordon Mellor, with a subtle hint of humour, describes the trials of bombing operations, the extraordinary circumstances of being shot down, and his remarkable evasion.
Author
 In 1940 Gordon Mellor was called up and joined the RAF, training in the UK and Canada as a navigator. Gordon's war years, serving with Bomber Command, were particularly dramatic and he left the service in 1946 as Flight Lieutenant. He passed his final Royal Institute of Chartered Surveyors exams, and worked in the Parks and Recreation department of the London County Council. In 1943 Gordon had married Daphne, and the birth of two children in 1947 and 1950 completed the family. In 1968 they all moved to North Wembley, London, where Gordon still lives. Membership of a number of associations enabled Gordon to keep up with old friends, especially those associated with the Comète escape line. Gordon was also a Trustee of the Executive Committee of the Bomber Command Association during planning and construction of the Bomber Command Memorial in London's The Green Park.
---
Share this Product
---
More from this collection