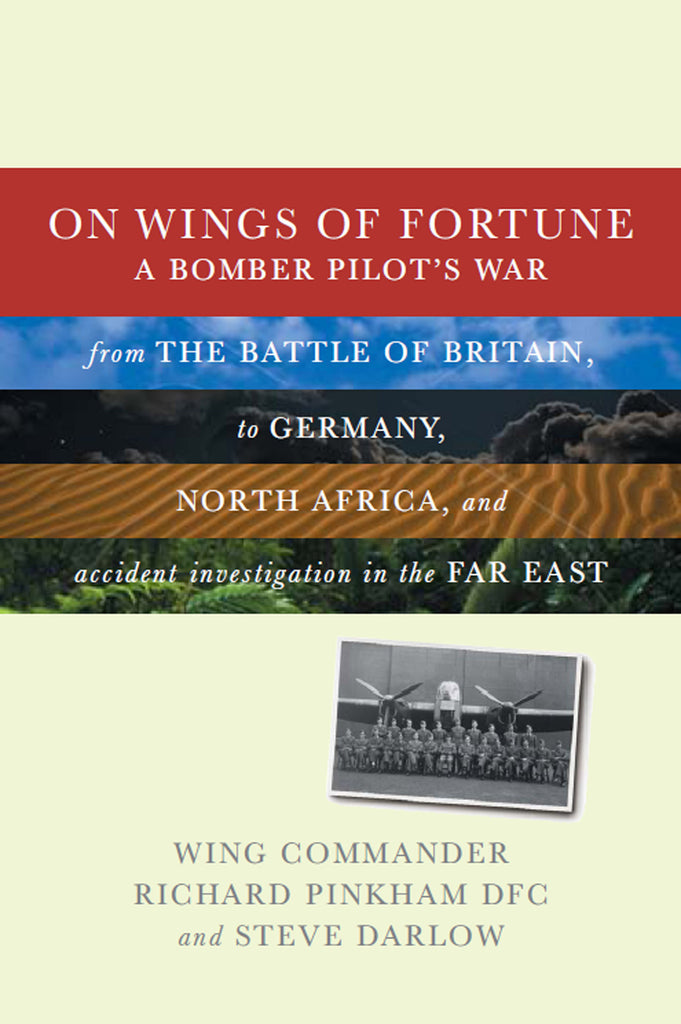 Fighting High Books
On Wings of Fortune (with veteran signed bookplate)
A Bomber Pilot's War
by Wing Commander Richard Pinkham DFC with Steve Darlow
Hardback - 192pp - 234 x 156mm.
World Rights - Fighting High Ltd.
ISBN - 978-0-9562696-2-1
Description
Royal Air Force veteran Wing Commander Richard Pinkham DFC presents the extraordinary and graphic account of his experiences flying 62 World War Two bombing operations. He tells his story with candour and without pulling punches, although the occasional humorous anecdote lightens proceedings. The reader joins Richard in the cockpit of his bomber as he dares the bursting flak, dives to avoid penetrating searchlights, and wrestles his damaged aircraft home.
Richard served with the Royal Air Force through the entire war, embarking on his operational career amidst the desperate fight for survival that was the Battle of Britain. He went on to take part in some of the largest bombing raids ever carried out against Germany. With odds of 5 to 1 against him, Richard, unlike so many of his fellow airmen, lived to tell his story. He was then posted to North Africa to blast the Axis forces from Tunisia, and finally spent the last year of the war in the Far East, taking up fascinating accident investigation duties.
On Wings of Fortune is an exceptional story by a distinguished and decorated RAF veteran who flew and fought in the World War Two aerial front line. Acclaimed author Steve Darlow provides the general context of the bomber war. Richard Pinkham relives his terrifying, gripping and fascinating story.       
Reviews
"Richard flew 62 'ops' and tells his story with disarming candour - humour, fear, valour, calamity and all" (Flypast magazine - December 2010)
---
Share this Product
---
More from this collection